Best Power Supplies to Buy in 2023: Ultimate Buying Guide

Walton Digitech
Apr 30, 2023 Published

1228 Time people Read This Article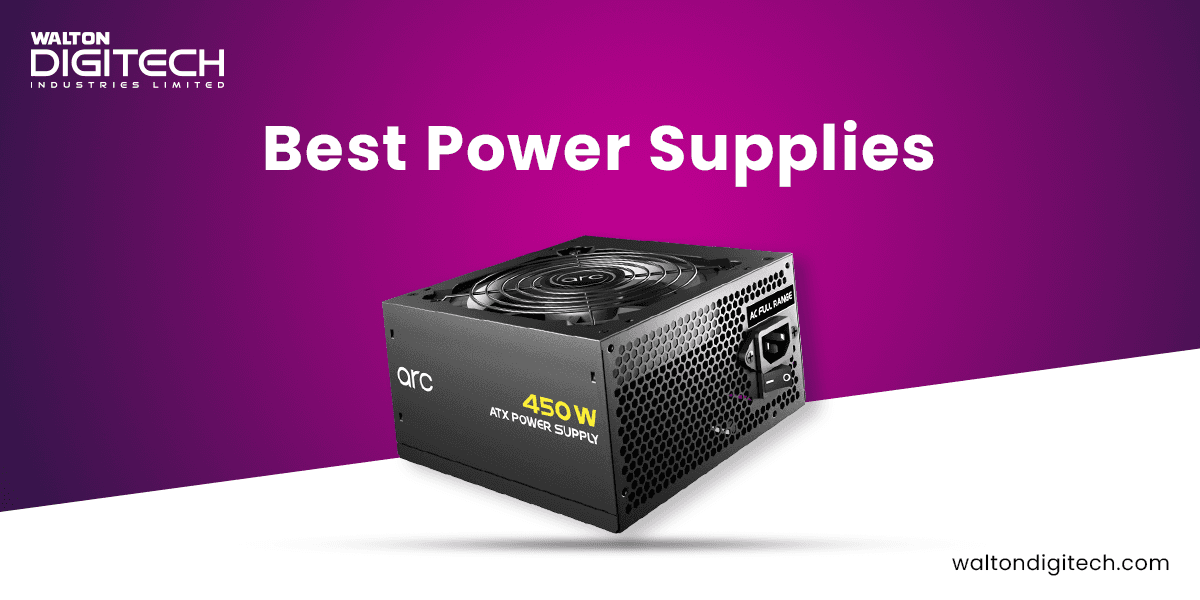 The power supply unit or PSU works as the heart of your computer system. The ultimate power supply unit for your PC will ensure your PC's reliable and stable performance and save all the crucial parts of the PC and the PSU where there will be any electric supply issues. If your PSU doesn't ensure these things, you need to go for a change. Are you looking for the best PSU or having problems with your existing one? Please read our blog-" Best Power Supply to Buy in 2023: Ultimate Buying Guide" to get the solution.
Top Power Supply Choices in 2023
Just check this list to get your best PSU 2023:
This list of power supply units contains your top choices by the best power supply brand. All of these PSUs are of remarkable quality and have mentionable features. Among them 9 are 80+ Bronze certified, 3 are 80+ Gold certified, and 2 are 80+ Platinum certified.
Let's have a brief discussion on our top picks.
This 80+ Bronze-certified PSU will give you multi-protection and efficiently handle 85% of the typical load. You'll get 100-500 ms power good signal. Generally, 750W is the highest wattage that most PCs will need. So, along with its excellent features, it can be the best power supply for your PC.
Get multi-protection from this 80+ Gold-certified PSU and it will effectively take 90% of the typical load. It has more or less the same features as the above model except for its awesome load-handling capacity. As we've mentioned above, 750W can be the highest wattage needed for most PCs, so this model with amazing load-handling capacity can be your best power supply for gaming.
This 80+ Gold-certified PSU comes with 135mm 2 Ball-bearing smart fans with a fan stop function and a completely modular design. It will efficiently handle 90% of the general load for you. You'll enjoy all of its amazing features, and multi-protection and get assurance of reliable and stable performance from your PC. It can be your best 850 PSU 2023 choice.
This 80+ Platinum-certified PSU model can be your best overall choice. Because it comes with almost the same features as the previous model with more efficiency of handling 92% of the typical load. Get multi-protection, excellent features, and assurance of outstanding PC performance.
This is yet another 80+ Platinum-certified PSU model and can be your best 1000w power supply 2023 choice. Enjoy the 135 mm 2 ball-bearing smart fans with a fan stop function and a completely modular design like the above two models. It will also take 92% of your typical load efficiently.
Considering Factors While Choosing the Best Power Supply Unit
Decide carefully before choosing the right power supply unit for your PC whether your PC is a busy workstation, gaming PC, or a basic productive computer. The power supply unit type will vary depending on your PC's work type. Let's know some tips to choose the best PSU for your computer from this buying guide:
Wattage:
The wattage of your power supply should be sufficient to power all the components in your computer. A good rule of thumb is to choose a power supply with a wattage that is 20% higher than what you think you will need. For example, if your computer requires 400 watts, then you should consider a power supply that provides at least 480 watts.
Efficiency:
The efficiency of a power supply is measured as a percentage of the total power it draws from the wall outlet versus the amount of power it delivers to the computer components. A more efficient power supply will generate less heat and save you money on your electricity bill. Look for power supplies with an 80 Plus certification, which indicates that they are at least 80% efficient at various load levels.
Modular vs. Non-Modular:
Modular power supplies let you detach cables you don't require. It will help with cable management and enhance airflow within your computer casing. While the non-modular ones come with fixed cable sets. Modular power supplies are generally more expensive, but they provide greater flexibility and convenience.
Size and Form Factor:
Make sure the power supply you choose fits your computer case and motherboard. ATX (Advanced Technology Extended) power supplies are the most common, but some cases may require a smaller form factor, such as SFX or TFX (Thin Form Factor).
GPU Power Necessities:
The latest generation graphics cards will use a 12+4 pin connector that provides up to 600W of power, which is more than the current 6+2 pin connectors that are rated for up to 300W. However, power spikes from high-end graphics cards are what trouble today's power supplies, not their sustained power consumption. This is why manufacturers recommend strong PSUs with over-current and over-power protection features that can shut down the system if the graphics card asks for increased power, even for very short periods.
Connectors:
Check that the power supply has all the necessary connectors for your components, including the motherboard, graphics card, storage drives, and peripherals.
Noise level:
Power supplies with larger fans or multiple fans tend to be quieter than those with smaller fans. Look for power supplies with a noise level of 25 decibels or lower.
Quality:
Choose a power supply from a reputable brand that has a good track record for quality and reliability. The known brands produce high-quality power supplies that are built to last.
Price:
Power supplies can range in price from around BDT 5,343 to over BDT 32,057. While it's tempting to go for the cheapest option, remember that a low-quality power supply can damage your components or cause instability issues. Invest in a quality power supply that will last for years and provide reliable performance.
Final Words:
By now you must have become confident about how to choose the exact PSU for your PC after reading this blog- "Best Power Supplies to Buy in 2023: Ultimate Buying Guide."  Have your research, read reviews, and buy a power supply that meets your needs and budget while also ensuring the stability and reliability of your computer system. Please stay connected with us to get the latest tech-related updates, and for queries please check the FAQ part.
FAQ
What do you mean by a power supply unit?
A power supply unit (PSU) is an essential component in a PC build as it converts the AC from the wall outlet to the DC required by the PC's components. It supplies power to all other PC components and is considered the most critical component in a PC build.
What is the durability of power supply units?
The lifespan of a power supply unit (PSU) is not standardized, and it varies from unit to unit. Checking the manufacturer's warranty period can give you an idea of the PSU's lifespan. High-end PSUs can last for ten years or more, but it is advisable to start considering a replacement once it reaches a decade of usage.
Are all PSUs universally compatible?
Although all PC power supply units use the same connectors, it is not recommended to mix and match removable cables that come with semi-modular and fully modular PSUs. Power cables are designed for specific PSU models, and using cables from another PSU can damage or destroy the power supply and other components. It is important to double-check whether the power cables are compatible with the PSU you want to use them with.
What wattage is recommended for your power supply unit?
We've already discussed a bit about it in our buying guide section. Still, get a more thorough idea depending on your need from here. As a rule of thumb, a 600W or less PSU is sufficient for office builds and those without a dedicated graphics card. For gaming PC builds, most builders should look for a PSU between 650W and 850W. A 1000W PSU or more watt is reserved for advanced gaming PC builds, professional workstations, and miner rigs. But it's best to use a power supply calculator to determine the exact power requirements of your PC build.
Why does your PSU's fan stop spinning?
If your PSU fan isn't spinning, one possibility is that your PSU features a semi-passive mode of operation, meaning the fan doesn't turn on under light or medium loads. Check the documentation or manufacturer's website to see if your unit has this feature. Another possibility is that you have a completely passive unit that doesn't come with a fan. The last option is that there's something wrong with your PSU fan or the power supply itself, which you can test using a PSU tester or by checking if the unit works.
#technologies
#tech
#digital
#digitalmarketing
#blog

0 Share
Subscribe to our blog
Sign up to receive Content blog posts