The Ultimate Buying Guide for External SSD in 2023

Walton Digitech
Mar 4, 2023 Published

491 Time people Read This Article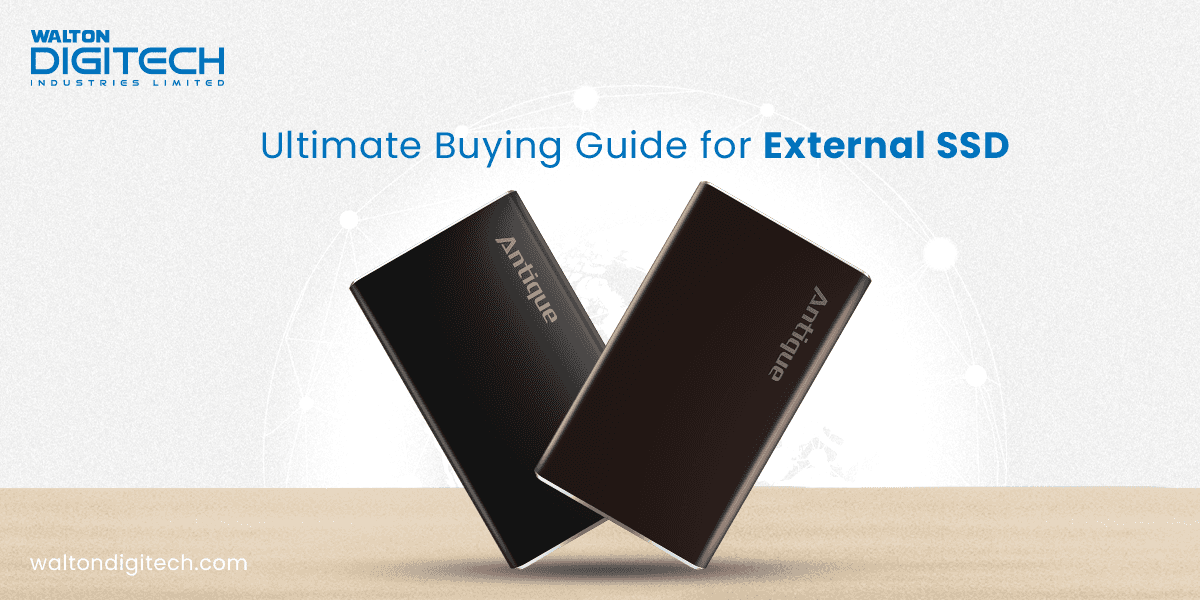 Nowadays computers and laptops have become important companions in our daily life. For any type of work like office, education, entertainment, we need a pc. Every day we store different files, documents, images, videos, programs, etc on it.
So how can you manage all these files properly? You need a sufficient amount of storage capacity to keep all this data. Here external SSD plays a huge role. You can easily store and transfer multiple data on the storage. Before choosing an external SSD you must consider some important factors.
Things to Consider Before Buying External SSD
Storage Capacity

There is no doubt that storage capacity is the most important factor for an external SSD. You are purchasing an extra drive for more data storage. When you are going to purchase an external SSD you have to determine how much capacity you need.

Suppose you want an SSD for your work purpose. Your main intention is to store mostly documents and important files.

Generally, these types of files are low in size. So you don't need any huge SSD capacity to store them.

So you can choose a 256-512 GB SSD external SSD storage.

On the other hand, if you want to create a huge collection of movies or games, then you have to pick a large-capacity SSD. Normally these files come in large sizes. For that purpose, you can choose a 1TB-2TB SSD.

In this storage, you can easily store multiple types of large-size files without any difficulties. As you can see the storage capacity depends on your use purpose. So first determine why you need the SSD, then try to purchase your desired one.

Connectivity

As you are trying to find an external SSD, you must ensure that the storage drive properly connects with your computer, laptop, and smartphone Otherwise, your entire effort will go in vain.

A good quality external storage always had multiple ports for connecting different types of devices.

Generally, the SSD contains USB 2.0, USB 3.0 ports, and USB-C. Through the USB cables, you can easily connect your favorite devices to the drive.

USB 2.0 is more traditional. It's useful for the oldest models of computers and phones. USB 3.0 and USB- C is more modern and faster than USB 2.0. It can easily transmit data from your device to the external drive.

There is another type of port that is currently popular among users for its fastest transmission speed. That port is the thunderbolt.

This connection types faster than previous ports. The transformation speed of the thunderbolt is up to 40gbps. These ports are especially beneficial for professional purposes.

For regular usage, thunderbolt ports are not so effective. Also, thunderbolt port SSD is more expensive than the others. However, before selecting the SSD you should focus that your SSD contains at least USB 3.0 or USB - C.

Transfer Speed

Specifically for the external SSD, data transformation is very important. Because the main purpose of external storage is to transfer data from the drive to the device. You often have to collect data and files on your computer and store them on the external SSD.

If your SSD data transfer speed remains slow, will it fill its main purpose? It hampers overall productivity. Because suppose you need a file from your SSD to the computer in an urgent manner.

Because of the slow transfer speed, it will take too much time to send that file to the computer. A standard quality SSD can easily read and write at 200-500 MB/s speed. This limit is the optimum limit for most solid-state drives.

But there are various models of SSD available in the market that can transfer 1000 MB/s to 2000 MB/s easily. This type of SSD is more expensive than the regular type of SSD. So if you have enough budget then you can select those.

For the basic type of data transmission, regular SSD are very efficient and cost-effective rather to the traditional form of HDD.

Portability

Portability becomes one of the major issues for external devices like SSD and USB drives. Because you have to carry this accessory in different places for different purposes. So it should be handy.

For better portability, you should choose a lightweight and small SSD. You can easily carry it in your backpack at any time. Especially during traveling, you can carry them without facing any major difficulties.

The overall portability of the SSD depends on the building materials and structure of the SSD. If the manufacturers use too heavy equipment for assembling SSD, it will normally take more weight.

Also, the slim and thin SSD is more expensive than the normal one. But for the portability issue, you can spend some extra money to grab the best one that will give you flexibility.

Budget and Warranty

You know that the budget comes the first place for any type of product. The price depends on the capacity and speed of the SSD. Also, the build quality influences the overall price.

If you want more SSD storage, then you have to spend a good amount of money on them. Also, the SSD's durability and longevity depend on the overall budget.

As you are going to purchase an SSD that will give long service, you should increase the budget and choose the best quality SSD. In our Walton Digitech store, we have different models of external SSD at the most affordable price.

Another important thing is the warranty on the SSD. In terms of tech accessories warranty plays a huge role. Suppose you face any functional problem after purchasing the SSD. This time the warranty will be helpful for you to fix the problem.
Top Quality External SSD in Bangladesh
I hope that you got an extensive idea about external SSD. The information above will help you to choose the right one.
Antique M.2 NVMe External SSD 1TB | W1TBPCP001

Antique M.2 NVMe External SSD 1TB | W1TBPCP001 is a powerful external SSD available in our store. It has a huge 1TB storage capacity that will allow you to store numerous files and documents.

This SSD is built based on 3D NAND Flash memory technology. So it can provide you with the fastest data transformation speed. Also as a port, we have integrated a USB type- C port in this SSD. This port is supported for most modern devices.

Antique M.2 SATA External SSD 1TB | W1TBM2P001

Antique M.2 SATA External SSD 1TB | W1TBM2P001 is another famous external SSD. This is a SATA-based external SSD. The flash type of this SSD is MLC/TLC. It's very useful for faster performance.

As a storage interface, this external SSD has USB 3.1 Gen 2 and Type C connectivity. So that you don't need to be worried about connecting different types of devices. The read and write speed of this SSD is 500MB/s and 450MB/s. This is optimum for most of the file transformation.

Antique M.2 NVMe External SSD 512GB | W512PCP001

Antique M.2 NVMe External SSD 512GB | W512PCP001 is an M.2 technology-based external SSD. This SSD has 512 GB of storage capacity. With this storage capacity, you can easily manage different types of documents and multimedia files.

The most fascinating factor of this external SSD is its fastest transfer speed. It can read and write data at 1000MB/s and 900MB/s. It's more than enough for transferring all kinds of files.

Antique M.2 SATA External SSD 256GB | W256M2P001

Antique M.2 SATA External SSD 256GB | W256M2P001 is another work-efficient external solid-state drive available in our online store. It is manufactured based on the latest M.2 storage type. You know that M.2 drives are capable of fast data transformation.

It has 512GB storage capacity which is 3D NAND Flash memory based. For connectivity, this SSD has a USB-type C port.
Final Words
Finding the right external storage is not such an easy task. At first, you need to have enough ideas about multiple factors such as storage capacity, connectivity, transfer speed, portability, budget, and warranty. In this article, I have discussed all these factors in depth.
Frequently Asked Questions
Ques: Why transfer speed is important for the external SSD?

Ans: External SSD is specially used for storing data from computer to storage. So it needs enough transformation speed to perform frequent data transfer.

Ques: Which is the best external SSD in Bangladesh?

Ans: Antique M.2 SATA External SSD 1TB | W1TBM2P001 is the best external SSD in Bangladesh.

Ques: Why is warranty significant for the external SSD?

Ans: Warranty is especially effective for tech products. If you face any issues after purchasing the SSD, you can claim warranty service.
#technologies
#tech
#digital
#digitalmarketing
#blog

0 Share
Subscribe to our blog
Sign up to receive Content blog posts