Top 6 Best Gaming Monitors in Bangladesh (Read This First)

Walton Digitech
Mar 4, 2023 Published

567 Time people Read This Article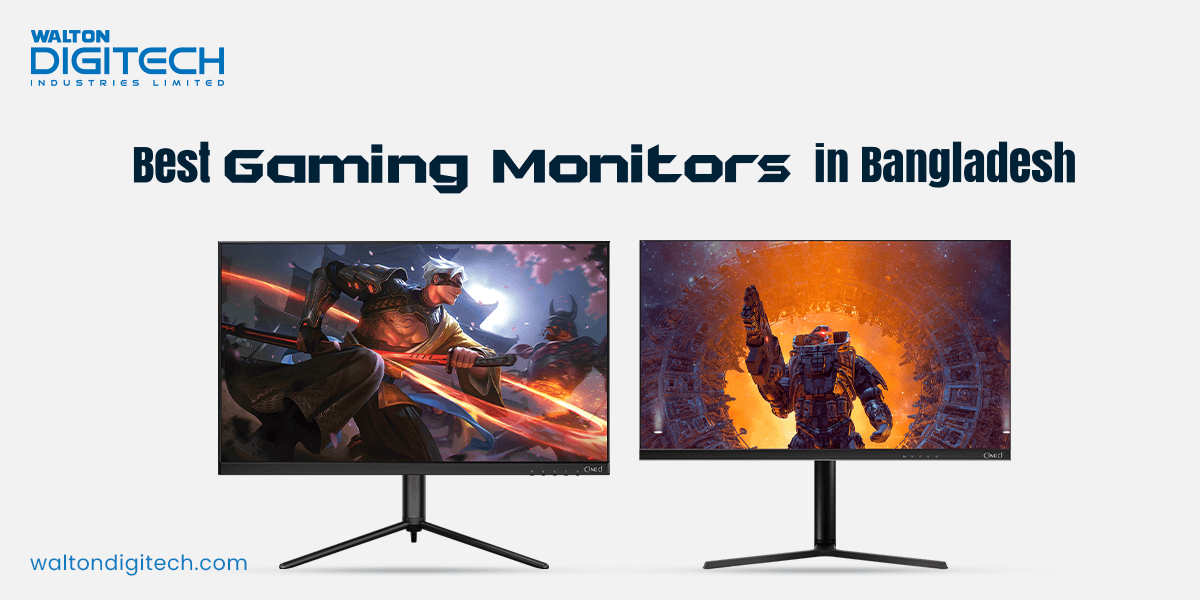 For a smooth and proper gaming experience, a gaming monitor is a must-have piece of equipment for every gaming enthusiast.
Nowadays gaming accessories manufacturers are more focused on building high-quality gaming monitors for gamers. There are various types of gaming monitors available such as 8K monitors, 4K monitors, 2K monitors, etc for gamers.
I think you are trying to find a gaming monitor for you. No worries! I will share information about some top pick gaming monitors. I hope you might find the right one!
Top 6 Best Gaming Monitors in Bangladesh
You can find different models of gaming monitors in the tech market. So let's know about those high-spec gaming monitors.
Walton CiNEd 27 Inch 165Hz QHD IPS Monitor | WD27GI07

| | |
| --- | --- |
| Name | Specifications |
| Screen Size | 27" QHD IPS Display |
| Refresh Rate | 165 Hz |

For a realistic gaming experience, the Walton CiNEd WD27GI07 gaming monitor is the best choice. Because most modern games are developed for the realistic and high graphics experience.

Color accuracy is the most essential factor for gaming monitors. If the monitor can't process the color it will not give you the exact visual output.

WD27GI07 contains high color accuracy management. It will provide you with the most smooth and sharp image with high brightness control and a 1000:1 contrast ratio. We already know any type of monitor produces blue light which is harmful to our eyes.

So, WD27GI07 has a powerful low-blue light technology system. You can set up the blue light transparency based on your preference. Especially when you are gaming the frame rate is a very important factor. This monitor is built with G-Sync & FreeSync functions to ensure you a smooth and flawless gaming experience.

Also, WD27GI07 comes with High Dynamic Range (HDR) capability. It manages high contrast and brightness levels to provide the best picture quality.

If you want to play any games without lag then you should choose this monitor. Because it has 165 HZ refresh rate ability. It will give you a smooth and lag-free gaming experience.

Walton CiNEd 27 Inch 165Hz QHD IPS Monitor | WD27GI06

Name

Specifications

Screen Size

27" QHD IPS Display

Resolution

2560x1440

Ports

I/O Port: 2*DP+2*HDMI

Audio Out: Yes

Walton CiNEd 27 Inch 165Hz QHD IPS Monitor | WD27GI06 is another model of a gaming monitor in our Walton Digitech store. If you are trying to find a gaming monitor at a reasonable price this is the best option for you.

In terms of gaming purposes, a large-size display is always beneficial. It can make the gaming experience more realistic and innovative. This 27" (68.58 cm) LED Backlit Display can easily fill that requirement.

Also, the display resolution is another essential factor for proper visual quality. The display resolution of WD27GI06 is QHD 2560x1440. Which are the combination of 350 cd/㎡ brightness and a 1000:1 contrast ratio.

You already know that color accuracy ensures visual output quality. The imbalance between the colors can make the video quality worse. Its color accuracy is controlled with the NTSC 93% and Adobe RGB 95%.

It's an IPS display that is capable of managing the fastest response time. Response time is a very significant factor during gaming.

Dell 32 Curved Gaming Monitor - S3222DGM

Name

Specifications

Screen Size

32-inch QHD Curved Screen

Resolution

2560 x 1440

Ports

2 x HDMI (HDCP 2.2)

DisplayPort (DisplayPort 1.2 mode, HDCP 2.2)

Audio line-out (mini-jack)

Nowadays curved monitors have become very popular among young gaming enthusiasts. Curved gaming monitors are useful for realistic gaming visual quality. Also, it's helpful in reducing eye strain.

If you are trying to find the best-curved gaming monitor you can choose Dell S3222DGM for everyday use. We know that Dell is one of the most popular computer accessories brands around the whole world.

They introduced this curved monitor with a large 32-inch display. As a gamer, you must know that the display size is important for enjoying the game properly. It's built with a 3-sided narrow border that will provide a decent viewing experience.

When you are playing any game, clarity becomes the first priority. Will you be able to play the game if the visual quality is poor? Dell has used AMD FreeSync premium technology to ensure remarkable clarity for game visuals. With a 165Hz refresh rate, this clarity reaches a more advanced level.

Gamers often play games at night. So display light management is also a crucial factor. This monitor is specially designed with downlight tech that can handle the visual quality in a low-light environment.

TUF Gaming VG27VQM

Name

Specifications

Screen Size

27 FHD Screen

Resolution

1920x1080

Ports

DisplayPort 1.2 x 1

HDMI(v2.0) x 2

USB Hub: 2x USB 3.2 Gen 1 Type-A

Earphone Jack: Yes

In the world of pc gaming, ASUS becomes one of the famous brands for manufacturing different types of gaming accessories. For that purpose, this company produces multiple models of gaming monitors.

TUF Gaming VG27VQM is one of the famous gaming monitors in the current tech market. The display size of this monitor is huge. It has a 27-inch FHD (1920x1080) 1500R display.

The most fascinating factor of this monitor is its display refresh rate. It provides a 240Hz refresh rate. If you want to go for a professional online gaming stream, you choose this gaming monitor for the smoothest gaming experience.

Its ultrafast refresh rate provides you with the smoothest and fastest gaming experience for different types of games like first-person shooting games, strategy games, etc.

With the refresh rate, the adaptive sync should be matched. Otherwise, the viewer will not get the best experience at all.  ASUS authority uses AMD FreeSync Premium technology to speed up the refresh rate.

Besides that, the color performance management system is also a very significant factor. Without the proper color accuracy, the game's visuals will remain bad. TUF Gaming VG27VQM has been built with the most advanced HDR technology.

Monitor control systems are important for managing visual quality. This monitor has different options for gaming such as shadow boost, low blue light, game visual, etc.

OMEN 27c QHD Curved 240Hz Gaming Monitor

| | |
| --- | --- |
| Name | Specifications |
| Screen Size | 27 QHD Screen |
| Resolution | 2560 x 1440 |

HP is another famous brand for manufacturing different types of gaming accessories for game lovers. HP OMEN series are especially focused on monitors.

OMEN 27c QHD Curved 240Hz Gaming Monitor is a popular gaming monitor of the OMEN series. It's another curved monitor on this list. You already have an idea that curved monitors are very effective for gaming purposes.

If we look at the screen size, it's huge. The screen size of this monitor is 27". Specifically, if you are thinking of playing multiplayer games, it's the best option for you. Along with that, the monitor resolution is an important factor.

The game's visual output depends on the screen resolution. So, this monitor is built with a QHD (2560 x 1440) resolution. This high-resolution functionality can easily handle any high-config game.

A higher refresh rate is always significant for the fastest gaming experience. This monitor has a 240Hz fast refresh rate ability. There is no chance of getting lag while playing any type of high-definition game.

The most lucrative factor of this monitor is its different types of ports for devices. It has HDMI, USB-C, USB Type C, and a 3.5MM jack. Also, it has a little joystick control function in the back portion of the display.

Lenovo G25-10 24.5 Inch NVIDIA G-SYNC Gaming Monitor – HDMI

Name

Specifications

Screen Size

24.5-inch Full-HD

Resolution

1980x1080

Ports

1 x HDMI 1.4

1 x DP 1.2,

1 x Audio Out (3.5 mm)

Lenovo G25-10 24.5 Inch NVIDIA G-SYNC Gaming Monitor – HDMI is another famous gaming monitor. If you are thinking of buying a gaming monitor for your personal use, this monitor is appropriate for you.

The screen size of this monitor is optimum for a basic and decent gaming experience. It's built with a 24.5-inch Full-HD display. If you are an online gamer this is the best option for you.

Not only the screen size but the screen resolution is also equally important for gaming monitors. Lenovo g25 has a 1980x1080 resolution. So you can play most of the games in this resolution setting.

Most computer and console games have the option for customizing the resolution of the game. So you should change the resolution based on the game performance.

For the gaming monitor, the visual output should be matched with the game graphics. Otherwise, the gameplay will be laggy and blurry. G25 contains NVIDIA® G-SYNC® Compatible technology. This smoothly delivers the visual for a better gaming experience.

Conclusion

A perfect gaming monitor is the most important accessory for any type of desktop and console gamer. Especially if you are a professional gamer, you should choose a good quality gaming monitor. So, in this article, I have discussed some top featureful gaming monitors.

If you are trying to find a gaming monitor at a reasonable price, you choose our Walton gaming monitor. We ensure the best quality monitor at the best price.

Frequently Asked Questions

Ques: Which is the most reasonable and featureful gaming monitor?

Ans: Walton CiNEd 27 Inch 165Hz QHD IPS Monitor | WD27GI07 is the most affordable and good quality gaming monitor.

Ques: What is the best resolution for the gaming monitor?

Ans: Most of the new generation games are built with high graphics and higher resolution. So, your gaming monitor should contain at least 2560 x 1440 resolution.

Ques: Why is the refresh rate important for gaming monitors?

Ans: Especially for gaming, refresh is a significant factor. It determines the smoothness of the entire game
#technologies
#tech
#digital
#digitalmarketing
#blog

0 Share
Subscribe to our blog
Sign up to receive Content blog posts