Can You Use Laptop While Charging? (Read THIS First!)

Walton Digitech
Feb 28, 2023 Published

554 Time people Read This Article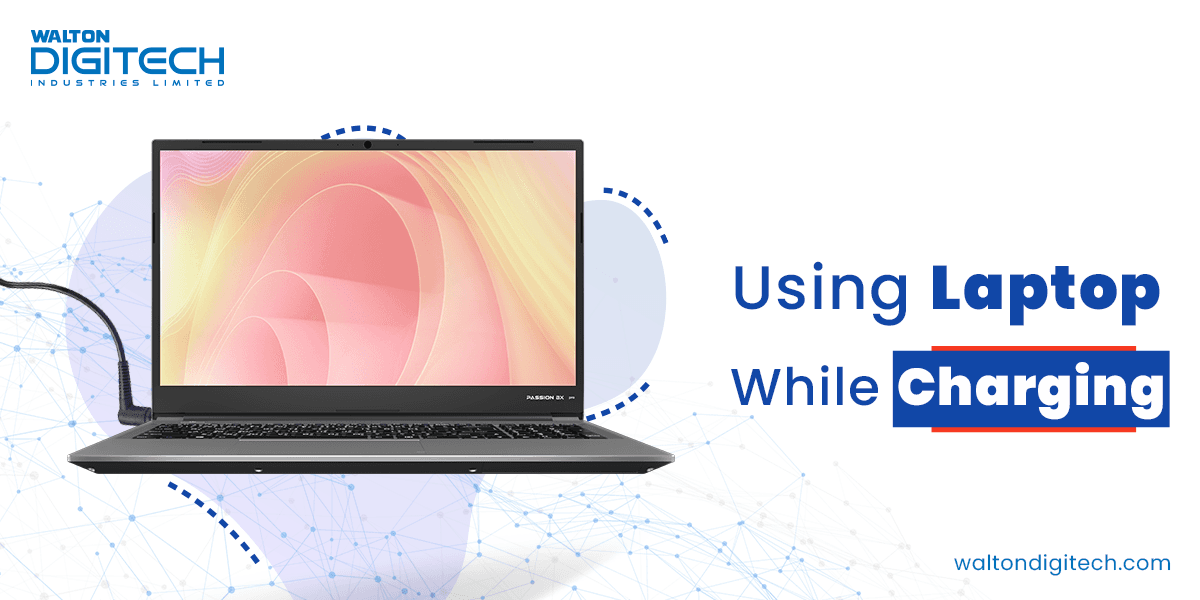 It's a big question among laptop and desktop users that is it safe to use their favorite device during the charging period? Will this hamper the life cycle of their device?

Well, in this article, we are going to provide you with logical answers to all these questions. Besides that, we will give some significant tips to improve your laptop's battery life.

So what's the delay?

Let's jump into further discussion.
Is it Ok to Use a Laptop During Charging?
If you use your laptop while the charger is plugged in, it will not cause any big issues or damage to your laptop at all. Because when you connect the charger to the laptop, the electricity output transforms from battery to A/C adapter. So that your laptop directly consumes power from the A/C, not the battery.

But during the charging time, you might see your laptop is heating a little bit. This is a very normal occurrence. On the other hand, you will see that many people use their laptops without an attached battery. Then how do they use their laptops in plugged-in mode all the time? So you don't need to worry about it.

I will share my personal experience of using a laptop. I have been using my laptop in charging mode most of the day for 1 year.

During the charging time, I have done a lot of work like my remote jobs tasks, gaming, editing, content watching, etc. But, I never faced any performance and battery damage issues at all. So, if you can buy a good quality laptop, we hope that you will properly use your laptop without facing this type of problem.
Is Overcharging Can Become Harmful for My Laptop Battery Life?
Overcharging will not impact your laptop's battery life. In this revolutionary era of this modern technology most laptops, and smartphones are manufactured with a powerful battery management system. This management system is specially focused on the durability and longevity of the battery life.

In the beginning era of laptops, manufacturers used Nickel-metal-hydride (NiMH) batteries for laptops, tablets, and mobile phones. These batteries were made for rechargeable qualities. But they are not vulnerable to overcharging issues.

Generally, the oldest models of laptops and smartphones contain NiMH batteries. Besides that, at the maximum charging pressure, this type of battery increases the overall device temperature to the max level.

In modern times most devices contain Lithium-ion polymers (Li-poly). Li-poly batteries are specially built with advanced capabilities. This type of battery has an efficient charging control management system. It doesn't overcharge and contains the power of longer battery capacity.

If your laptop battery reaches the full charge limit, the battery will automatically stop taking charge from the adapter. As a result, it will never take your laptop's overall temperature to a higher level. So you don't need to feel worried about overcharging issues.

But sometimes Li-poly batteries overheating issues decrease the performance of your laptop also. If the battery temperature reaches 50 degrees celsius, it will automatically reduce the overall performance of the laptop by almost double. It will not affect the battery life of your laptop.

However, if you don't feel satisfied with the performance of your laptop, then you can remove your laptop's battery. Now you will be able to run your laptop directly with the charging plug an unlimited number of times. You will also get the maximum performance of your laptop.
Is it Ok to Play Games on A Laptop While Charging?
It's entirely safe to play games on a laptop while charging. In fact, it's necessary to play games on the laptop charging mode. Because nowadays most games are heavy in graphics. These games will not run properly without the full performance of the laptop.

If you turn on those games in the battery mode, you will get low FPS and laggy performance of the game. For the reason of low FPS, the game will also overheat the laptop.

So whenever you are thinking of playing any high graphics game, you need to plug in the charger. This will give you a better gaming experience and is also helpful for the overall health of your laptop.

But when you are playing any low specifications pc games, then you can run them on the battery mode of your laptop. Because it will not give too much pressure on your desktop processors.
Tips for Improving Laptops Battery Life
Everybody wants to run their laptops for a longer period of time. No one wants to change their laptop's battery frequently. This will cut an extra amount of money from you and also be vulnerable to your laptop.

Nowadays most laptops and computers come with multiple advanced functionalities. These functions are very useful to control our battery life appropriately based on our use. In this section, we will provide you with some essential tips to use your laptop's functions to maximize your laptop's battery life.

So, let's focus on that.
1.Use Windows Power & Battery Management Option
We know that the majority of laptop users use Windows operating systems. Every day windows update its system to provide users with the most efficient and comfortable experience. In the latest version of Windows 10 and 11, you will get the effective setting called Power & battery.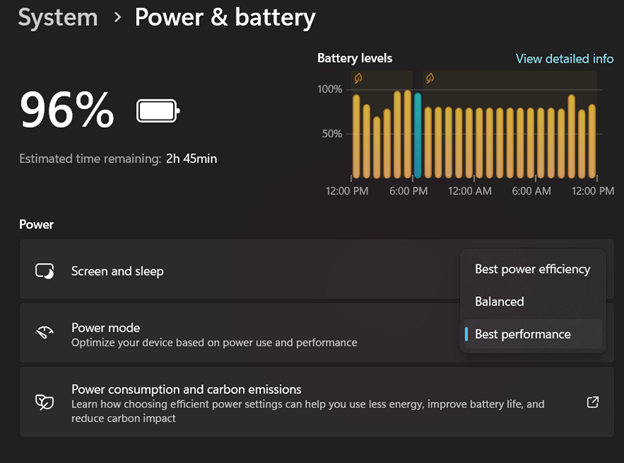 In this section, you can easily set up your laptop's power-consuming mode based on your use pattern.
Best power efficiency - Best power efficiency mode is mainly focused on the battery life of your laptop. It automatically restricts the background software, to reduce the running program. It helps to increase the battery life.

Best Performance - Best performance mode is mainly focused on giving you maximum performance by using the maximum battery life.

Balanced - This mode is a combination of performance and power efficiency modes.

You can easily choose any of the modes for controlling your laptop's battery life properly.
2.Turn on Battery Saving Mode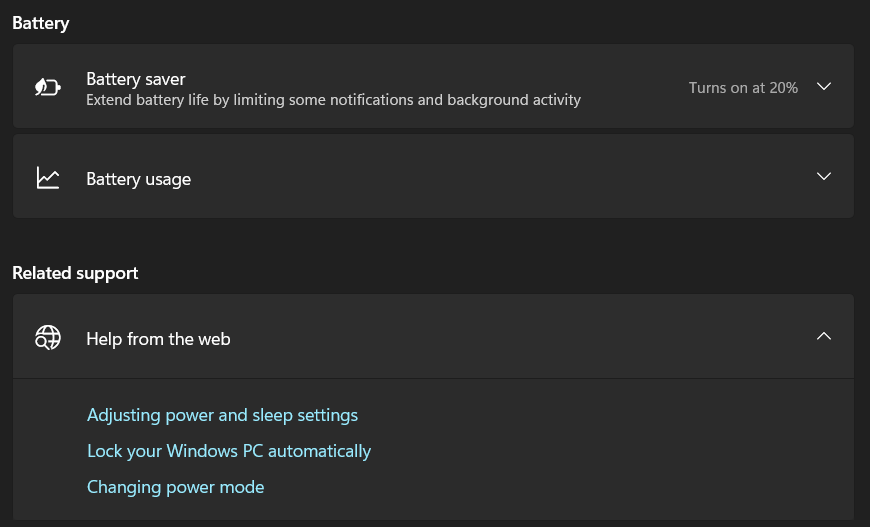 Well, battery saving mode is another useful feature on Windows operating system laptops. After fully charging your laptop, you can turn on the power-saving mode of your laptop. This mode mainly limits the background program uses of the laptop.

If you are doing light work like browsing then the power-saving mode is the best option for you to save your overall battery life. But for heavy tasks like gaming and graphics design, this mode is not that useful at all. Because battery saving mode will reduce the performance of your laptop.
3.Focus on Storage Drive
Well, the storage of your laptop is also a significant factor in power consumption. Because storage affects the overall task-processing system of the entire device.

Once the HDD (Hard- Disk-Drive) was the most commonly used storage for laptops and desktops. HDDs always take too much time during any type of data transformation. Because HDD contains circuitry and physical moving parts for the processing system. As a result, it will generally consume more battery power.

On the other hand, SSD(Solid-State Drive) is faster than HDD in terms of data transformation and power consumption. So you must focus on choosing an SSD for your laptop battery life.
4.Upgrade the Operating System
It's very necessary to regularly update your laptop's operating system. Because your laptop's operating system actually impacts the overall performance and longevity. Along with the performance OS also influences the power consumption of the device.

Suppose you use an older version of Windows 7 on your laptop. Now you want to run the latest software and other programs on your pc. It will become a bit hard to run those applications with this backdated OS. As a result, processors will consume extra battery life.

Furthermore, windows constantly update the os versions with multiple types of new features like power manager. In the oldest version of windows, you will not be able to access all these features at all.
5.Control the Graphics and Display
We know that the graphics processing system took a major amount of power from the laptop. When you do any heavy graphics-related tasks such as gaming, video editing, motion graphics, etc, the processor needs to work more than the other minor tasks.

So it generally consumes extra battery life. In the latest version of Windows 11, the Graphics management function is one of the effective features. From this function, you can individually control the graphics of specific software or apps.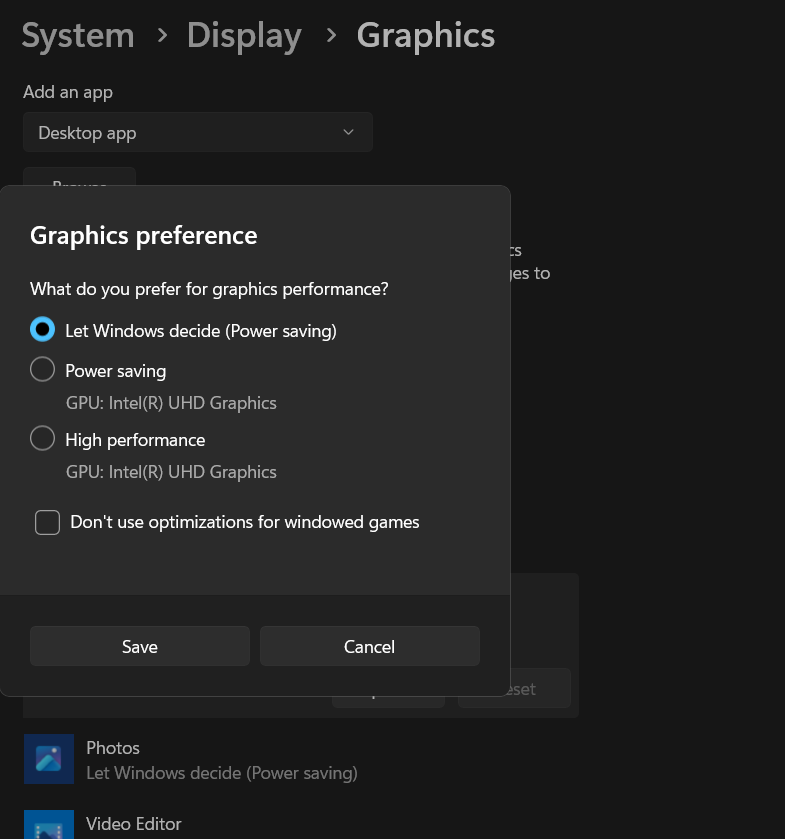 You can set up each app's graphics on different preferences like high performance and power saving. It will help you to reduce the battery usage of these applications.
6.Turn off the Bluetooth and Wifi Options
This is another significant issue for consuming unnecessary power from your laptop or desktop. When you are internet browsing, and downloading it is necessary to turn the wifi on. But you don't need to turn on your wifi all the time. Suppose you are watching a movie or playing an offline game, you should turn off your wifi. Because wifi connections will create an extra amount of pressure on your laptop's processor.
Frequently Asked Questions
1.Does the operating system impact the battery consumption of the laptop?
Yes, your operating system can influence your laptop's battery life. Because if you run any updated program on an older OS, it will create huge pressure on your laptop.

2.Which processors are the best for gaming laptops?
You should choose a gaming laptop that contains at least Intel Core i5 latest generation processor or AMD Ryzen 5 processors.

3.What type of battery is used in the current generation of laptops?
Most of the latest generation laptops contain Lithium-ion polymers (Li-poly) batteries. These batteries are special for durability and better battery life.
Conclusion
We are living in the revolutionary era of modern technology. Almost every day tech product manufacturers are updating new features on various devices like laptops, desktops, and smartphones.

Once these devices contained Nickel-metal-hydride (NiMH) batteries that were vulnerable to overcharging. But now most of the devices have Li-poly batteries. These batteries automatically stop taking input electricity after a full charge of your laptop battery. So it's totally safe to use your laptop in charging mode.

1 Shares
Subscribe to our blog
Sign up to receive Content blog posts