The Ultimate Review: Inkjet VS Laser Printers

Walton Digitech
Mar 30, 2023 Published

409 Time people Read This Article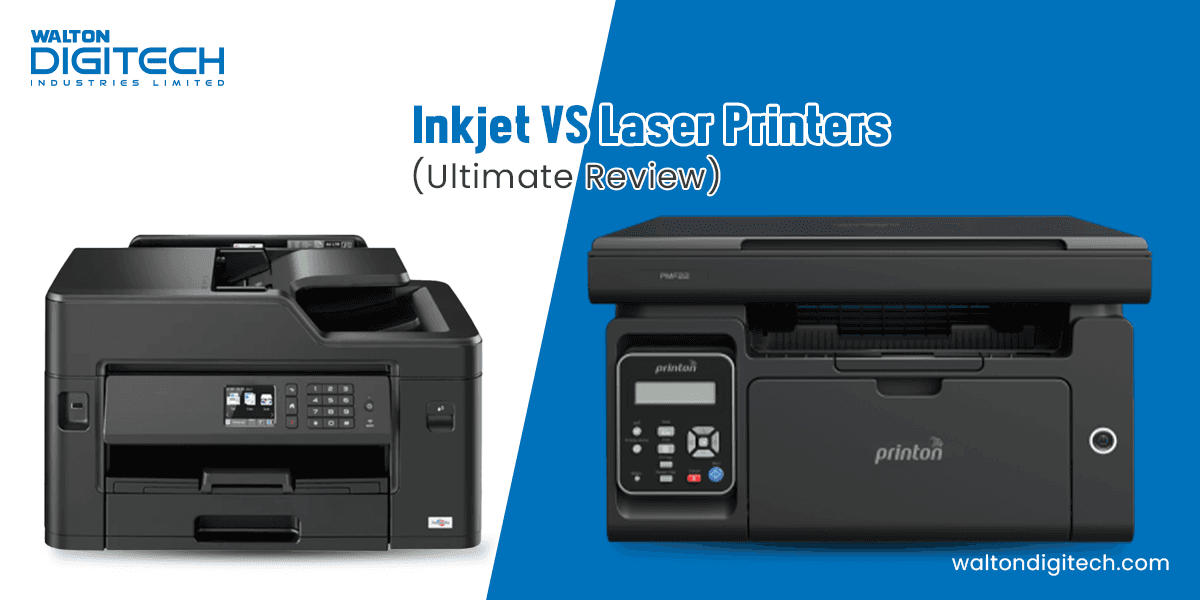 If you are looking for a printer for the first time, you might get confused about which printer is the best for you. There are two different types of printers commonly available in the Bangladeshi tech market: inkjet printers and laser printers.
These two printers are different based on their features and functionality. So I am going to discuss the features of these two printers.
Also, I will provide you with an ultimate guide that will help you to choose one of them based on your purposes.
What Is an Inkjet Printer?
Inkjet printer is the most commonly used printer among users. It can be considered the oldest and most traditional printer.
The printing process of inkjet printers runs based on the ink. It creates prints with the bead of the liquid inks on paper. Inkjet printers can easily print high-quality photos and documents.
Ink cartridges from inkjet printers are available in different types of colors such as yellow, magenta, green, etc. Of the variety of colors, it can easily print colorful images very efficiently. The connectivity of the inkjet printers works in both wireless and cable methods.
The majority of business institutions often used inkjet printers. Because this printer can print papers in higher volume.
But the maintenance system of inkjet printers is complex for its ink management system. Most of the components of inkjet printers are not that durable for long-term use. So if you choose inkjet printers, you have to change the components of the printers frequently.
Generally, the inkjet printer uses non-porous material paper. Because this type of paper is waterproof. So the ink doesn't damage the paper and delivers decent-quality images.
What Is a Laser Printer
Well, laser printers are the updated version of traditional printing technology. Laser printers especially use laser and electrical signals for printing any kind of documents and images.
It doesn't use liquid ink for the printing process. This type of printer can easily print high-quality images in a short amount of time.
By the way, the print quality of the laser printers depends on the resolution of the printer. Multiple types of Laser printers are available in the market such as color laser printers, black and white laser printers, etc.
For the efficiency of the laser printer, you have to use toner. Toner is one of the core components of laser printers. In the market, you will find different types of laser printer toners such as disposable toner, refillable toner, etc.  Also, laser printers need refill kits for a smooth printing process.
Refillable toner is the best option for laser printers.
The Comparison Between Inkjet Printers And Laser Printers
Now I am going to discuss a detailed comparison between inkjet printers and laser printers. 
In this comparison process, I will analyze based on the major advantages and functionality of the printers. I think it will represent a complete picture of which is the best printer for regular use.
Inkjet Printers vs Laser Printers - Quality of the Print
As we are talking about printers, print quality comes first in our minds.
We know that inkjet printers use liquid dye-based ink and pigmented ink. The inks come in multiple colors. There is no confusion that proper color accuracy is essential for high-quality image print.
So inkjet printers are more suitable for printing images and other colorful prints. Especially for professional photographers, inkjet printers are very efficient. Proper color management took more time during printing images.
On the other hand, common types of laser printers are generally efficient for black-and-white printing.
Because it doesn't have the ability for proper color management. But some of the latest models of laser printers have options for color printing. It can properly print color images. But in terms of accuracy, it can compete with the original one.
But laser printers are very efficient for text-based papers like any documents, or books. The printed document's text remains sharp and detailed. But Inkjet printers are not capable of printing crystal clear text. The printed text becomes white-shaded.
Also, laser printers are essential for printing text-based documents in higher amounts.
So in the printing quality, both printers are special in different sectors.
Inkjet Printers vs Laser Printers - Printer Speed And Volume
This comparison is essential for determining which printer is the best. Because the printer speed and volume signify the productivity of the overall printer.
Because if the printer remains slow, it will not give the better output that you want. The other factors like print quality, and power efficiency, will not provide any benefits at all.
So the printer speed and the amount of printing output are equally important for the overall performance of the printer.
First, let's look at the laser printer. These types of printers are specially made for professional places like business institutions and offices.
Because laser printers can print text documents in a short amount of time. The printing speed is higher than the inkjet printers. Most modern types of laser printers can print at 30-50 PPM speed. The term PPM(page-per-minute) means, how many pages a printer can print in a minute.
The reason for the fast printing speed, the laser printer usually prints lots of documents in a short amount of time.
Besides that, the inkjet printers can only print at 10-20 PPM speed.
So in terms of printing speed and volume, the inkjet printers were lost. 
Inkjet Printers vs Laser Printers - Printer Size
During buying a printer most shoppers don't look at the size of the printer.
Printer size is equally important along with the specifications of the printer.
Suppose you are going to purchase a printer for your study room. Now you choose a huge size inkjet printer from the market. Do you think this printer will be suitable for your study room?
It's a wrong decision. Because that printer will consume a huge amount of space in the room. You can't properly arrange all the other things.
You know the modern generation laser printers are built with very precise and compact elements. So the structure of the printer becomes slim and compact.
You can easily carry the printer and set it up wherever you want.
But the inkjet printers are not that flexible for regular use. Because most inkjet printers have multi-functional features. Traditional inkjet printers are also big.
So if you look at the flexibility of the printer, laser printers are always the best choice for you.
Inkjet Printers vs Laser Printers - Cost
Well, now we have come to the most crucial point which is the overall cost. Before buying the printer you must focus on the price of the printer.
The price of your desired printer whether that is a laser printer or inkjet printer, the price must be suitable for your budget. If you choose a printer that is beyond your entire budget, that will not be appropriate for you.
In terms of price, inkjet printers are more expensive than regular laser printers. You will find various laser printers at an affordable price in our Walton Digitech store. We also provide free toner cartridges with the printer.
Just the price of the printer is not important, also you must focus on the maintenance and printing cost of the printer.
Generally, inkjet printer cartridges are less expensive than laser printer toner cartridges. But the lifespan of the toner cartridges is higher than the toner cartridges. As a result, you don't need to change the cartridges frequently.
Another important factor of the printer is the cost per page. Laser printers cost less than regular inkjet printers.
Final Words
A full-functioning printer is always essential for the productivity of tasks. Because we often need to print different types of files and images in our printer. But the question arises of which printer is the best for regular use.
Generally, the laser printer and the inkjet printers serve different benefits based on different purposes. Laser printers are essential for high-volume text documents. But inkjet printers are essential for printing images and graphical elements.
Frequently Asked Questions
Ques: Which printer is essential for printing images?

Ans: Inkjet printers are the best choice for printing graphical documents, images, etc.

Ques: Why is a laser printer effective for professional use?

Ans: Laser printers are essential for professional use like offices, and business institutions. Because it can easily print text-based documents in a short amount of time.

Ques: Which laser printer is best in Bangladesh?

Ans: Walton Printon Printer | PS22 | is the best multifunction laser printer in Bangladesh.
#technologies
#tech
#digital
#digitalmarketing
#blog

0 Share
Recommended for You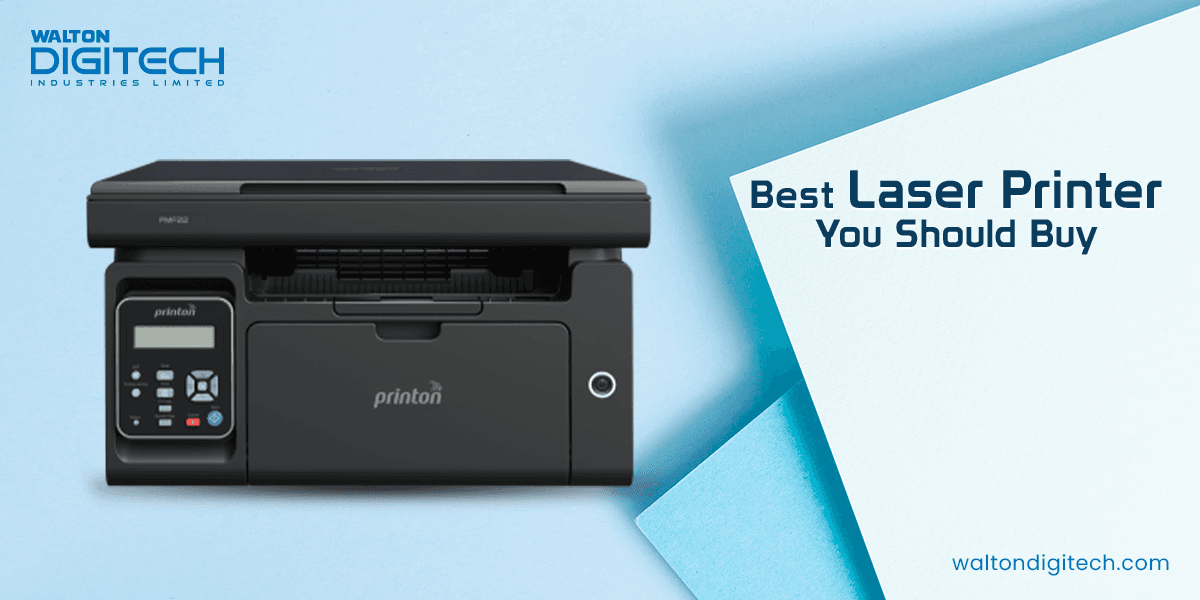 Best Laser Printer You Should Buy (Check This Out)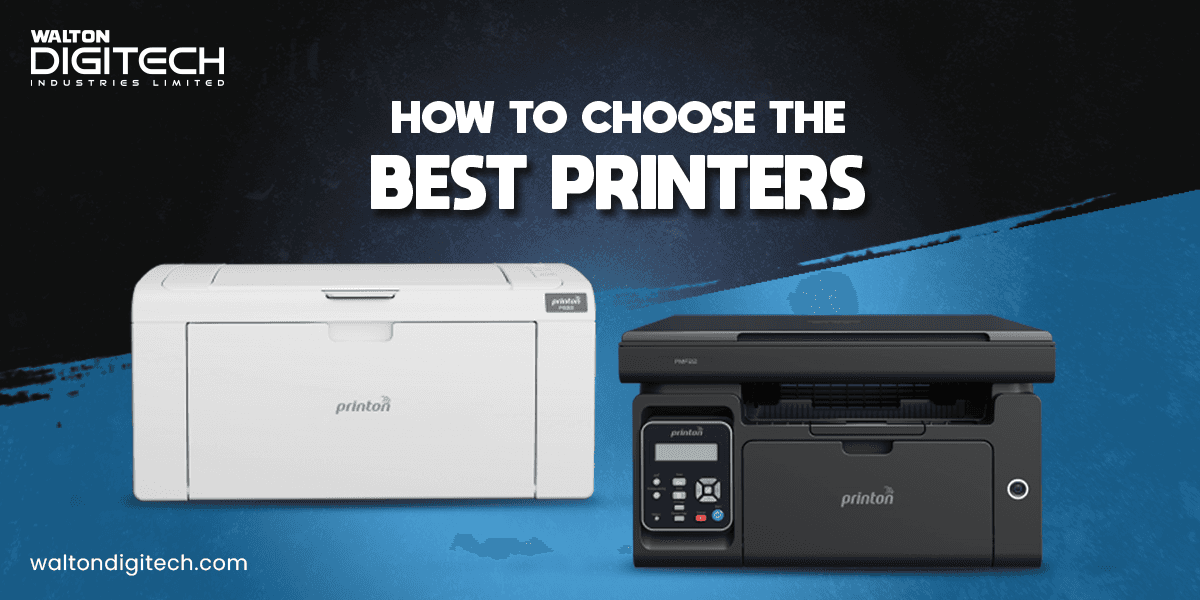 How to Choose Best Printers in 2023 (Read and Get Solutions)
Subscribe to our blog
Sign up to receive Content blog posts