How to Choose Best Printers in 2023 (Read and Get Solutions)

Walton Digitech
Mar 4, 2023 Published

465 Time people Read This Article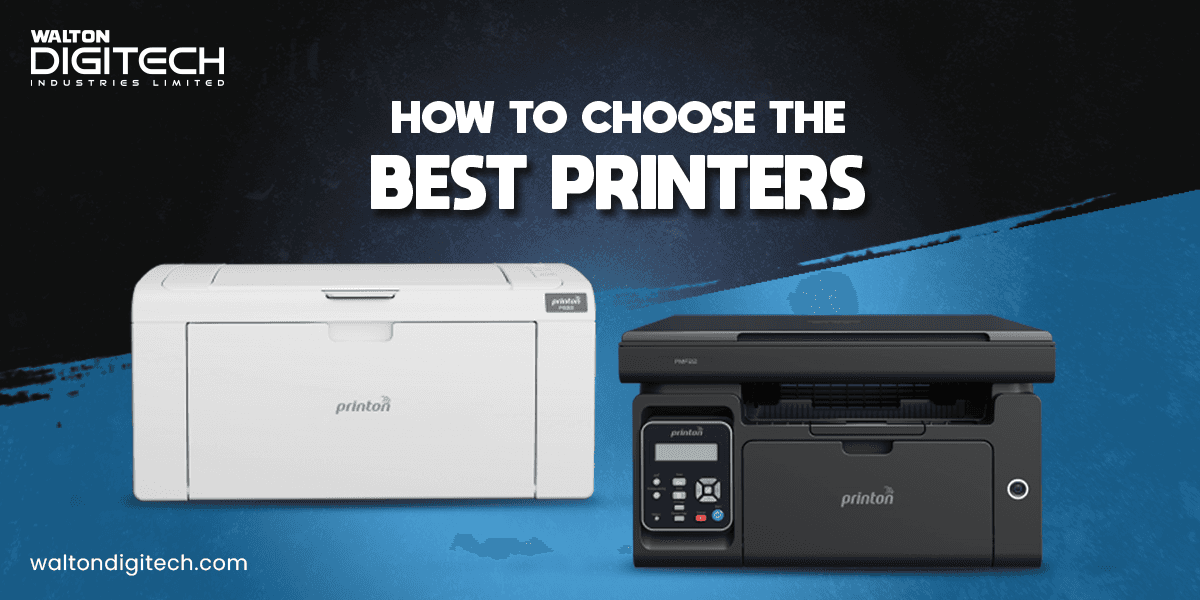 A good quality and functional printer are always helpful for turning digital pictures and documents into physical form.
You know this is the era of modern technology, we often manage multiple documents in digital form like pdf, docs, etc. We also need those documents in paper form. In this situation, a printer always plays a useful role.
But before selecting a fully functional printer, you need to contain extensive ideas about the printer specifications, inks, printing speed, and quality. In this article, I am going to discuss all these important factors.
Different Types of Printers
You can find different types and models of printers in the tech markets. These printers come with a variety of features and functionality.
Laser Printers

Laser printers are one of the most famous and most commonly used printers among users. It is also considered the modern form of printer. The laser printers process online documents, and images through laser and turn them into paper form.

It doesn't require any inks to process the images. These types of printers are capable of creating high-quality and crystal-clear images in a short amount of time.

On the other hand, traditional printers take more type to process documents or images.

In our Walton Digitech online store, we have different models of single and multi-function laser printers for you. Along with that we also have toner cartridges and refill kits for printers. If you are looking for a printer for your office or business, you should choose a laser printer.

Its high-efficiency capability will help you to print more documents faster than before. As a result, the productivity level will reach a higher situation.

Inkjet Printer

Inkjet printers are the opposite of laser printers. This type of printer processes the online with inks and makes them visible to physical papers. Inkjet printers are the most traditional and commonly used printers.

It's famous for its affordability. But the printing speed of the inkjet printer is much slower than the laser printer. But it can process high quality colorful and smooth images.

If your main focus is to print only black and white documents then the laser printer is the best option for you. In Particular, inkjet printers are special for graphical prints.

3D Printers

If you are looking for something advanced, 3D printers are the best choice for you. 3D printers are helpful in creating 3D models of any type of object.

It's generally used by professionals like architects, and doctors. They use 3D printers to create 3D models of any type of building or archeological structure.

But for general purposes, 3D printers are not so useful. Also, it's more expensive than the other types of printers.

Multifunctional Printers

You already understand the purpose of a multifunction printer after hearing its name. Well, multi-function printers are special for doing different types of tasks along with printing such as photocopying, scanning, etc.

Choosing the multifunction printer is a cost-effective decision. Because you don't have to use different types of devices for doing all these tasks. Also, you can run different processes at a particular time.
Tips for Choosing The Best Quality Printers in 2023
It's not easy to grab the best printer for professional and personal use. You must consider some important issues before buying a printer. Let's focus on some essential factors of good quality printers.
Printing Speed

Do you know that printing speed is the most crucial factor for any type of printer?

Especially if you are looking for a printer for your office and business, you must clarify that the printer has enough speed to print multiple documents fast.

Because in the professional field, you must print different documents in a short amount of time. Office employees need to print necessary documents frequently for multiple purposes.

If the printer contains low printing speed, will it be useful or fill the overall printing requirements? It is also impactful for the productivity of any institution.

The measurement of the printer speed is determined by PPM (Pages Per Minute). Which means, how many pages a printer can print in a minute.

A printer should contain at least 20 PPM. Otherwise, your printer should be considered as slow. The optimum range of the most commonly used laser printer is 20 PPM to 40 PPM. In the tech market, you can also find 3D printers which are more expensive. the 3D printer's speed is around 50 PPM to 60 PPM.

However, you should choose the speed based on your use. Suppose you are looking for a printer for your home, you don't need a high-speed printer.

Print Quality

There is no doubt that print quality has an impact on the overall performance of a fully functional printer.

When you are running a business where you provide printing service to the customers, you must ensure that your printer can print decent quality paper. Otherwise, you might lose a good number of customers.

How is the print quality measured?

DPI(Dot Per Inch) is the major factor for determining the quality of the print of a printer. DPI mainly focuses on the resolution of a printed image.

The higher DPI will provide a good-quality print output. Multiple types of printers have different types of DPI for printing documents.

The minimum unit of a printer DPI is 150. It is capable of printing in very low-resolution quality. Generally, the oldest models of printers have 150 DPI units. For professional use purposes, this type of printer is not useful.

300-1200 DPI is considered the optimum limit for printing medium and high-resolution documents. Generally, you don't need more than 1000 DPI printers for regular printing purposes.

Connectivity

When you are choosing a printer, you must focus on the available connectivity of that printer.

With the lack of proper connectivity, you can't properly print from different types of devices. Nowadays we spontaneously use different types of devices like smartphones, laptops, desktops, etc.

So we often have to connect those devices to the printer to print multiple types of documents.

Your printer must have enough options for connecting those devices smoothly. Most of the modern models of printers have different functions for connections like USB, LAN, Wifi, Bluetooth, NFC, etc.

Some of them also have mobile apps to connect the printer to the smartphone.

For the office printers USB and LAN connectivity are the best. Because it works efficiently and fast. You need to just connect your office computer through a USB cable with your printer.

Another effective way is Wifi. You can easily connect multiple devices with your printer through the Wifi connection. Wifi printing has become very popular among people for its flexibility.

But the wifi printing machines are more expensive than the conventional type of printers. Because it has more advanced functionality than normal printers.

Ink Types

In terms of choosing the best printer, printer ink is also another important factor. You have to remember what type of ink is used in the printer.

Because your printed documents' visual quality is determined based on the type of ink. There are different types of ink generally used in printers.
Pigment Inks - Pigment ink is one of the popular types of ink that is often used in printers. These types of inks are useful for professional purposes. The main benefit of the pigment inks is their durability. Also, this ink is special for printing high-quality images. So if your main focus is to print images then you can use pigment inks.

Dye-Based Inks- Dye-based inks are liquid-based inks that are cheaper than pigment inks. These inks are famous for their bright and contrasting full-color print. For cost-effective printing purposes, dye-based inks are the best option available.
These two types of inks are mostly popular among printer users. The ink type of your desired printer depends on the use. If you are a professional photographer you should choose pigment inks.
Budget and Maintenance Cost
During purchasing any kind of tech product, budget is one of the core issues. When you are going to select a printer for everyday use, you must focus on your budget.
Because different types of printers are available at different prices. Their price depends on the specifications and functionality.
So, first, you have to determine which type of printer you need. Suppose you need a printer for your personal use.
Now, do you select a high-spec multi-functional printer? It might be the wrong decision. Because multi-functional printers are appropriate for professional use purposes.
Final Words
We know that a printer is one of the essential accessories for a professional place like an office or institution. So you must be careful about choosing the printer.
To find the best printer you should check the specifications of the printer. Also budget is a significant issue. Your budget should be determined based on your requirements.
In this article, we have discussed all these important factors in choosing the best printer in 2023. We hope it will help you to select the best one.
Frequently Asked Questions
Ques: Which printer is a better solution for business?

Ans: A multi-functional inkjet printer is the best solution for business. Because it will be cost-effective and provide opportunities for managing different tasks.

Ques: How to choose the best printer?

Ans: Here are some tips for selecting the right printer for your everyday use.
Check the printing speed.

Focus on the print quality.

Choose the right ink types.

Set an appropriate budget.
Ques: What is the main problem with a printer?
Ans: Lower print quality is the major problem of any type of printer. Choose the higher DPI for high-quality print.
#technologies
#tech
#digital
#digitalmarketing
#blog

0 Share
Recommended for You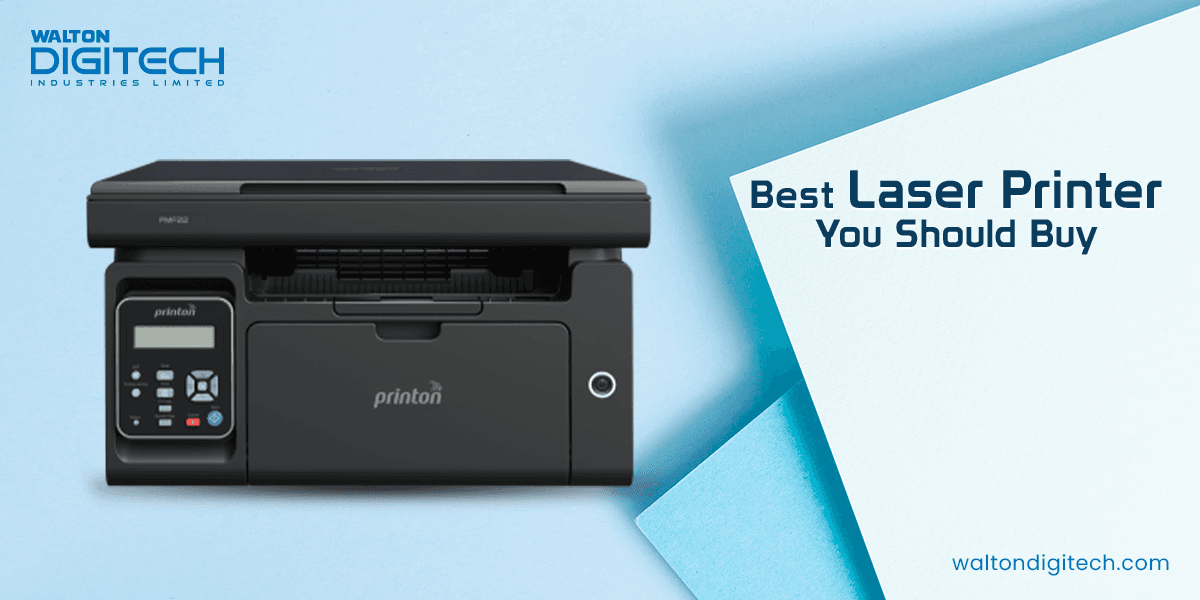 Best Laser Printer You Should Buy (Check This Out)
Subscribe to our blog
Sign up to receive Content blog posts