CCTV vs IP Camera: Which is Best for You in 2023

Walton Digitech
Apr 1, 2023 Published

768 Time people Read This Article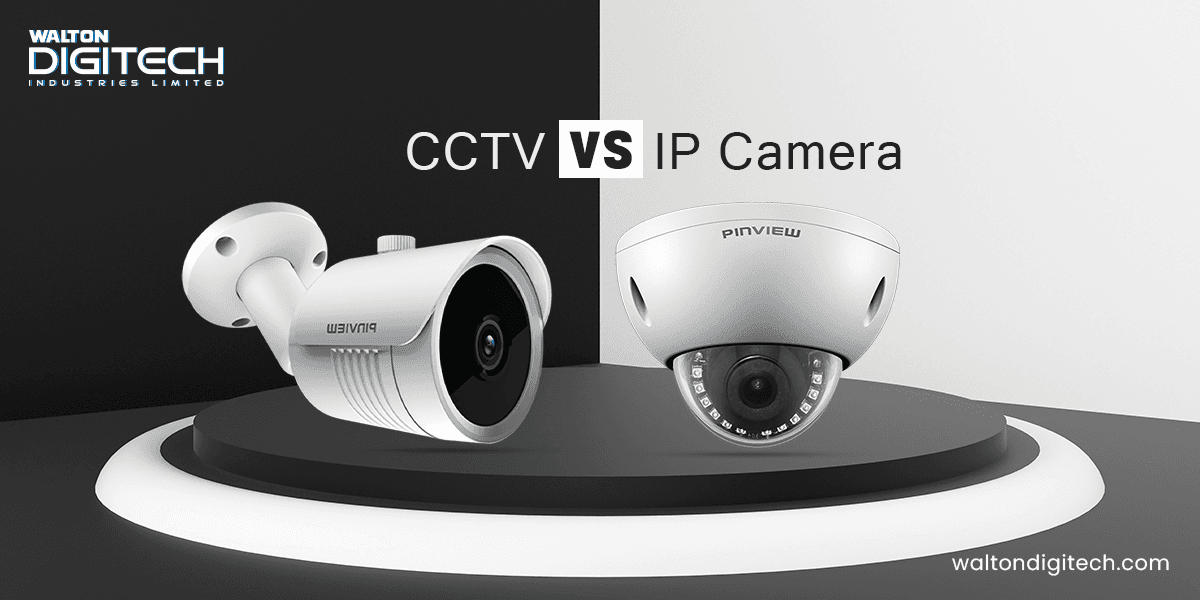 Well, we know that CCTV cameras are the core equipment to improve the security of the office and home. It's really special for monitoring unwanted activities very nicely.
But which cameras are beneficial for better security surveillance?
Mainly two types of security surveillance cameras available in the market: CCTV and IP cameras. In this article, I am going to discuss which is the best option for you.
What Is a CCTV Camera?
CCTV (closed-circuit television) cameras are the most commonly used security surveillance system in our country. It's one of the traditional forms of CCTV cameras that have been used by people for a longer period.
Now let's focus on how CCTV cameras work. Generally, multiple CCTV cameras are installed in various places of houses or offices.
Those cameras are connected with wires and cables in a computer system. All the captured video footage is transferred through the wire to the connected device. 
CCTV cameras are rare in our country. But now CCTV is often used in restaurants, schools, colleges, offices, houses, stores, and almost everywhere.
Types of CCTV Cameras
There are two different types of CCTV cameras available in the Bangladeshi tech markets.
Dome CCTV Camera: Dome CCTV camera is the most popularly used security system. People specially called it a dome camera because of its dome shape. One of the main benefits of dome cameras is their usability in the low light area. The main capturing function of the dome camera is built-in infrared LED technology. The wide angle lens of the dome camera is useful to capture more area.
Bullet CCTV Camera: Bullet CCTV cameras are another famous type of security system in our country. Bullet cameras are the oldest version of the traditional form of CCTV. Bullet cameras are often used in airports, parking lots, traffic areas, etc. It's especially beneficial for long-range coverage.
What Is an IP Camera?
IP Cameras are the most modern and latest generation of CCTV cameras.  With the advanced and updated technology, this camera becomes more famous than the regular CCTV camera.
You know that normal CCTV cameras require a local recording device and cables to capture the video footage and save it to the database.
But I don't need anything like that. Because IP cameras transmit video data through the wireless and ethernet network.
You can easily connect that IP network with your desired device like a smartphone, laptop, or computer. From these devices, you can monitor the videos from anywhere.
By the way, most IP cameras have a two-way communication system. In this system, you can speak and listen through your CCTV camera. I think it will be very helpful for strengthening the security of your office and home.
Specifically, if you use an IP camera at your door, this two-way audio will be effective for the verification process.
Which is the Best Security Surveillance System in 2023?
Now I am going to compare these two types of security cameras based on different functionality and advantages.
Video Resolution

What is the main purpose of the CCTV camera? The main purpose of the CCTV camera is to provide decent-quality video footage. So that you can properly monitor the situation.

If the CCTV camera isn't able to capture crystal clear videos, will it be helpful for you?

You will not get any benefits from the camera. As a result, it will become irrelevant to the overall security. So you must understand which camera will be essential for providing high-resolution images.

IP cameras are the latest versions of security surveillance cameras which are built based on modern technology. It can capture high-resolution video footage. Most modern types of IP cameras can capture videos in 1080p - 4K resolution.

So you don't have to worry about the video quality. On the other hand, CCTV cameras are not capable of capturing high-resolution images. Because CCTV cameras are lower than the IP camera megapixel.

Generally, the IP camera's capturing ability is 5-8 MP. But traditional CCTV cameras have 2-4MP. So it can't capture crystal-clear images. Most of the captured videos become blurry after zooming.

So in terms of video resolution, the IP camera won the race. By the way, we have two updated models of IP cameras in our Walton Digitech store. You can check them out.

Monitoring

Flexible monitoring is always efficient for any kind of security surveillance camera. Because your main intention is to monitor video footage properly.

If the security system doesn't have that easy monitoring management, it can't be useful for you.

You know that CCTV cameras generally transmit data through cables and wires. So it will not be appropriate for monitoring with flexibility. Because you have to be on specific surveillance for monitoring the activities.

But the IP cameras do not require any wired connection for the data transmission process. It transfers data through the wifi and mobile network.

So that the users can easily monitor the videos through their devices from wherever they want.

So as per the monitoring benefits, the IP camera is the most essential option for you. But if you want to buy a CCTV camera you can check our latest models of CCTV cameras.

Storage Capacity

Along with the video quality, the storage capacity is also a very significant factor for devices like security surveillance cameras.

A sufficient amount of storage helps store numerous videos without any problem.

So that a fully functioning CCTV camera needs to have enough storage to collect all the video footage.

The traditional CCTV camera doesn't have enough amount of storage capacity to store video footage. Also, there are lots of CCTV cameras that don't have any option for storing the footage.

But the IP camera is more advanced than the regular CCTV cameras. This camera has an extra storage unit for video recording. Also, most of the IP cameras have the option for extra SD card slots.

With the SD card slot, you will get more space for storing video footage.

Setup Advantage

Just buying a security surveillance camera is not the end of your journey. You must ensure that cameras are easy to set up.

Proper camera setup and installation impact the overall security level.

We know that CCTV cameras are connected through cables and wires. So it's a very complex job to set up the CCTV camera at the house and office.

Because for the installation process, you have to set all the cables through the walls.

But if you choose the IP camera, you won't have to face these issues at all. Because IP cameras are connected through wireless networks.
Final Words
For ensuring the best security of your office and home, you must choose the right security surveillance camera based on your purpose.
But how can you determine which type of camera is best for you? In this article, I have compared the CCTV camera with the IP camera based on its features and functionalities.
I hope these discussions will help you to buy the best security surveillance camera.
Frequently Asked Questions
Ques: Which camera is best for secured monitoring?

Ans: IP Camera is the best for secured monitoring. Because users can easily monitor the video footage from their devices.

Ques: Which is the best IP camera in Bangladesh?

Ans: PINVIEW IP CAMERA | WI21BP is the most affordable and best IP camera in Bangladesh.

Ques: What is the major disadvantage of CCTV cameras?

Ans: The cable management system is the major disadvantage of CCTV cameras. Because it makes the installation and monitoring process more difficult.
#technologies
#tech
#digital
#digitalmarketing
#blog

0 Share
Recommended for You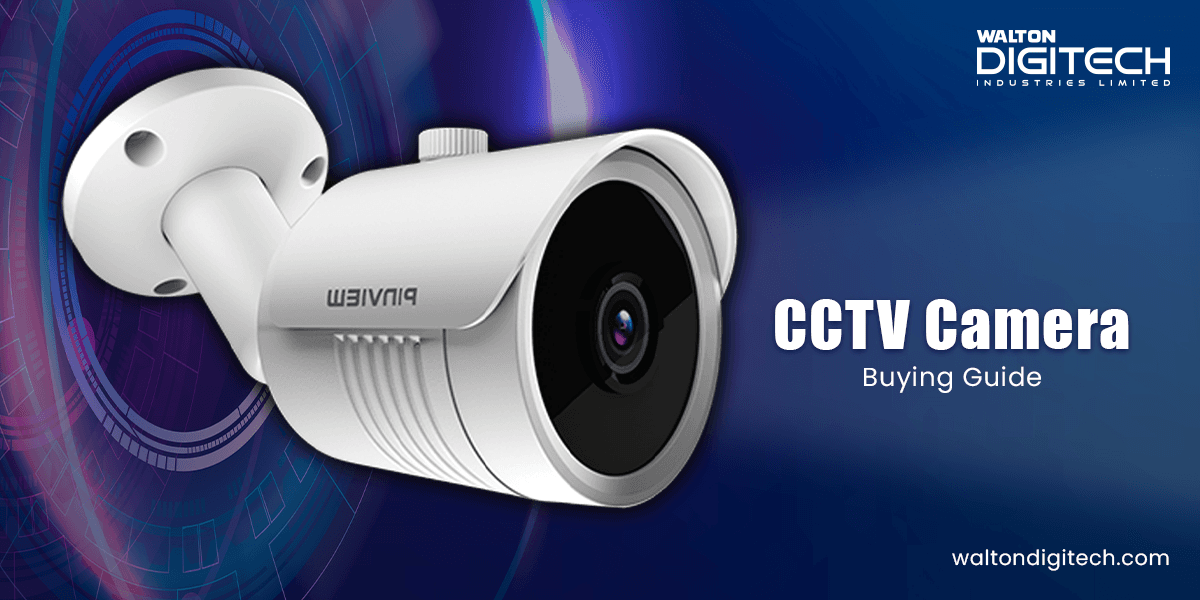 Best CCTV Camera Buying Guide For Home & Office
Subscribe to our blog
Sign up to receive Content blog posts