Things To Consider Before Buying a Wifi Router (Pro Tips!)

Walton Digitech
Mar 4, 2023 Published

592 Time people Read This Article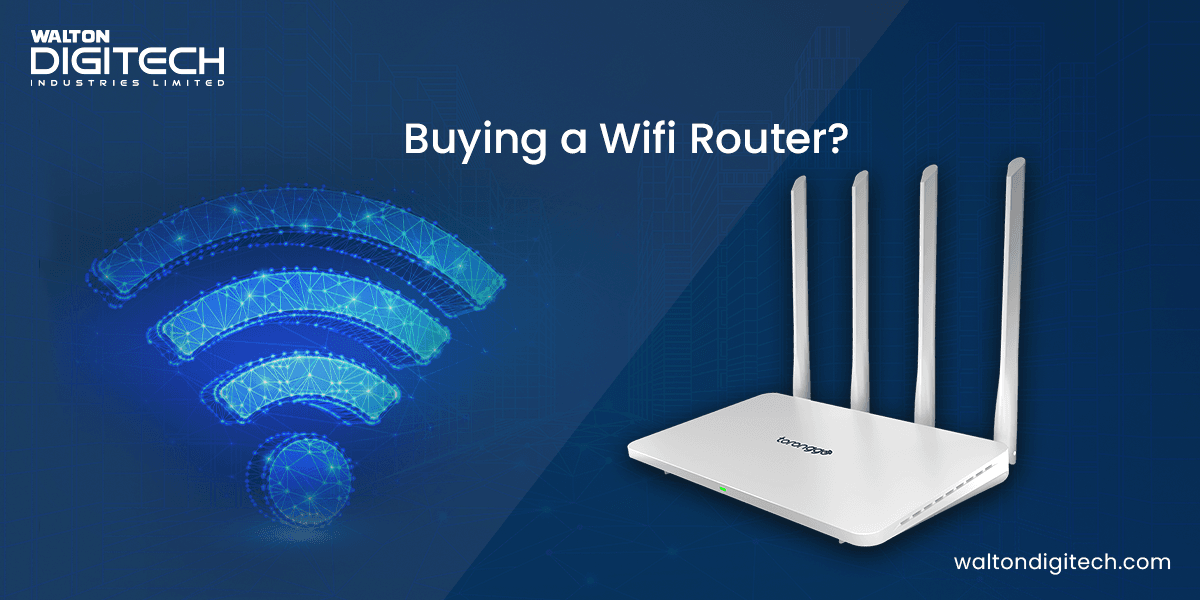 It's impossible to take further steps in the digital world without a perfect internet connection. So you need a stable wireless internet connection to roam around the digital world.
A perfect quality router can improve your online roaming experience level. Also, a low-range and bad-quality router can hamper your daily life online experience.
So you should choose the best router for your wifi network. But before that, you should know some essential factors about wifi routers.
Things To Consider Before Buying a Wifi router
Before buying a wifi router you must focus on some important factors to choose the best quality router for your home or office. A single router provides internet connection to multiple devices like smartphones, laptops, computers, etc. In this part, I am going to discuss all these factors. So let's know about that.
Router Band

Before choosing the router you must properly check the router band. The band is very important for the capacity of a router. Also, it determines the speed of the overall wifi connection. There are two different bands of routers available in the tech market.
Single Band Router
Dual Band Router
Well, the single-band routers generally transmit the network with a 2.4GHz single frequency. It's generally capable of managing one or a few devices at a moment. These types of routers are useful for very tiny places or small houses.
If you want to buy a router only for your personal use then you can choose a single-band router. Single-brand routers are found at a cheaper rate in online and tech shops. These types of routers are especially beneficial for basic users.
On the other hand, a dual-brand router is the combination of a dual frequency band which can create a more powerful wifi signal.
If you are looking for your entire house, where all of your family will use the same internet connection, a dual-band router is the best option.
Sometimes a single-band router could create problems with the speed of the wireless network. You might have a strong internet connection. But for the router issue, you might face difficulties. So for the best result, I would recommend you choose a dual-band router.
Security Issues
Security is a mandatory factor for wireless devices like routers. There are a lot of frauds and hackers waiting to hack the router and grab your personal information. Nowadays we often do most of the tasks online like internet banking, data storing, education, and office.
So there are a lot of significant data that you normally store in an online database. Also, we store multiple confidential data on the cloud database.
If the hackers got access to your internet, you will lose this necessary data within just a second. It's an alarming and dangerous issue. So you must check the security setting of the wifi router before purchasing.
Now let's focus on the type of wifi router security settings.
Wired Equivalent Privacy (WEP) - WEP is the initial level security setting for the wifi network. It can be considered the first and the oldest security setting This security is vulnerable, hackers can easily hack your network.
Wi-Fi Protected Access (WPA) - WPA is a more advanced security setting than the WEP. But it's not so powerful to provide the best security assurance to the users.
Wi-Fi Protected Access Version 2 (WPA2) - WPA2 can be considered the most standard and secure setting for the wifi router. If the hacker already has access to the network, the WPA2 router connection can be hacked.
I recommend you choose a router that contains WPA2 security settings. It will save your wifi connection from unwanted cyber-attacks. Generally, home internet connections are not the target of hackers. But you should maintain your wifi security all the time.
Wifi Standards
It's necessary to check the router's wifi standard specifications. The wifi standard means what type of mechanism is used in the router. Different versions of wifi standards are invented to optimize the performance of the router.
Most of the modern generation regular routers contain an 802.11b version. This version works based on 2.4 GHz. The maximum data transformation speed of this version is up to 11 Mbps. So it's especially useful for basic usage purposes. But for professional use, the 802.11b version is not suitable at all.
Because you will need a strong and fast connection to process multiple types of work at a single time. The wifi stand versions are regularly updated by the engineers.
For professional purposes, you can choose 802.11n (WiFi 4) routers. This version of wifi standards can provide faster internet speed. The maximum speed of this version is 600 Mbps. This speed limit is very essential for places like the office and industrial sectors.
The latest wifi standard version is 802.11be (WiFi 7). This extremely fast technology works simultaneously on 2.4 GHz, 5 GHz, and 6 GHz. You can't even imagine the speed of this version. It can reach up to 30mbps. For the regular, you don't need this version of wifi routers.
Connectivity
Flexible connectivity is a crucial factor for a device like a router. You should contain different types of ports connecting multiple types of devices. The traditional models of routers have only one port for the ethernet.
But now most modern routers have 4-5 ports for LAN and WAN networks. Also, the router should contain a USB port for connecting the USB devices.
Because most of the new technology devices have USB-type connections. When you are going to choose a router for your home or office you must check the availability of ports. Otherwise, you can't use the router the way you want.
Range
Now I am going to talk about the most significant factor for a wifi router. We already know that we use a wifi router as a connectivity device to share the internet connection in a specific place. In this situation, router range plays a huge role.
Range means the amount of area where your router can provide a flawless network. Generally, a regular router should contain at least 150 feet of network coverage.
If you are looking for a router for your house then 150 feet of network range is quite enough. Because only you and your family members will use the connection. But for professional purposes, the router range should be more than 150 feet.
Top Best and Affordable Wifi Router In Bangladesh
Toronggo 1200Mbps Dual Band Wi-Fi Router | WR14

Toronggo 1200Mbps Dual Band Wi-Fi Router | WR14 is one of the famous and powerful wifi routers in our Walton Digitech online store. This wifi router is built based on advanced beamforming technology.

It has 4 strong 5dBi antennas that will ensure the fastest network for the wifi users. You can undoubtedly choose this router for your office and home.

The network transmission capability of WR14 is different for the dual-band. In 2.4 GHz you will get up to 300Mbps speed. Also in 5GHz, you will get up to 867Mbps.

Toronggo 1200Mbps Dual Band Wi-Fi Router | WR15

Toronggo 1200Mbps Dual Band Wi-Fi Router | WR15 is another powerful router in our store. This router has MU-MIMO features. This functionality is very helpful for connecting multiple devices at a single time.

WR15 has the most secure wifi setting. So you can use it for a longer time without facing any hack issues. The security setting of this router is in different functions such as WEP, WPA / WPA2, and WPA-PSK/ WPA2-PSK encryption. Also, it has LAN and WAN connections for WPS and a reset button.

Toronggo 300Mbps Wi-Fi Router| WWR001N2 | WWR002N2

Toronggo 300Mbps Wi-Fi Router| WWR001N2 | WWR002N2 is a single-band router for the basic. This is especially beneficial as a secondary router for your home. It is available in two different colors such as WWR001N2 (White Color) and WWR002N2 (Black Color).

As wifi standard, we have used IEEE 802.11b/g/n (2.4GHz) in this router. The maximum speed of this router is up to 300Mbps. It has one WAN Ethernet port and four LAN ethernet ports for connectivity.
Final Words
For a flawless internet connection, a perfect router is a must-needed factor. You might spend a decent amount of money on the best internet connection. But if your router does not perform well, you will not get the right internet speed. In this article, I have discussed some essential tips for choosing the best wifi router. You can also find different models of the router in our Walton Digitech store. Along with the router we also have multiple accessories such as keyboards, pen drives, webcams, memory cards, etc.
Frequently Asked Questions
Ques: Are single-band routers good?

Ans:Single-band routers are not useful to provide sufficient internet speed. A dual-band router is the best choice for regular use.

Ques: Why is security important for the wifi routers?

Ans:Without the lack of security, hackers and frauds can easily access the wifi connection and get your data.

Ques: Which is the most affordable wifi router in Bangladesh?

Ans:Toronggo 1200Mbps Dual Band Wi-Fi Router | WR14 is the most affordable and featureful wifi router in Bangladesh.
#technologies
#tech
#digital
#digitalmarketing
#blog

0 Share
Subscribe to our blog
Sign up to receive Content blog posts