Best UPS for Gaming PC (Read This Before Purchase)

Walton Digitech
Mar 4, 2023 Published

1178 Time people Read This Article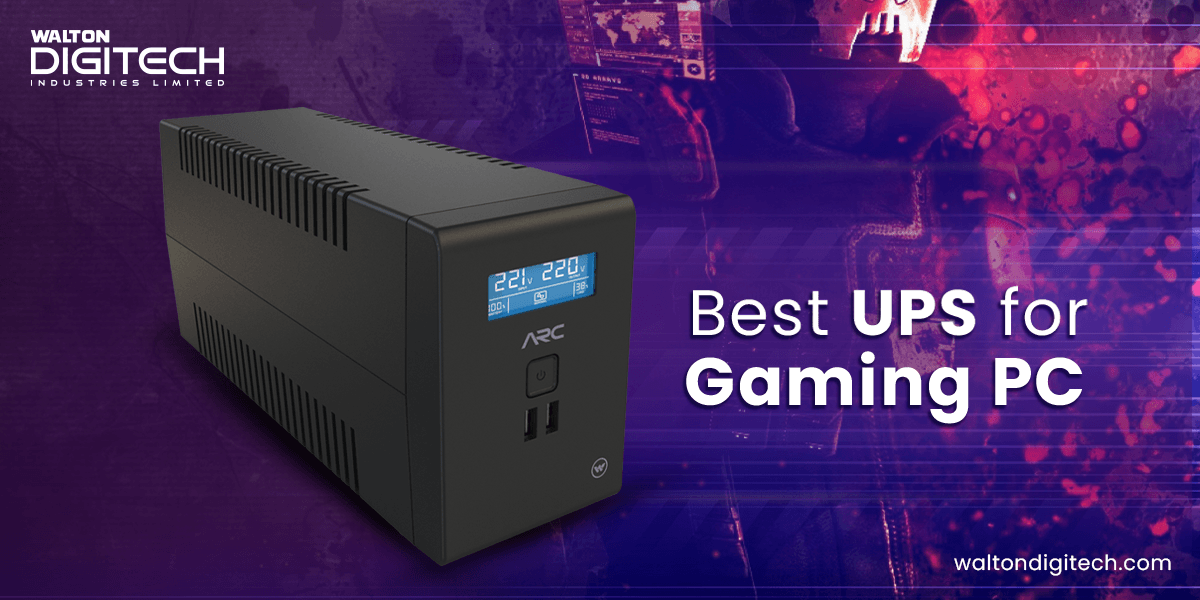 Do you really need UPS for your gaming PC?
We know that power cuts or load-shedding often happen. Frequent power cuts can significantly damage the hardware of the computer.
You build your gaming PC with expensive components. If power is constantly interrupted, you might lose your desired gaming pc.
So you should focus on buying a UPS(Uninterruptible Power Supply) for continuous battery backup during the load-shedding time.
Let's know about some most popular and efficient UPS for gaming pc.
Top Best UPS For Your Gaming PC
Arc UPS | UY02

| | |
| --- | --- |
| Capacity | 650VA/390W |
| Input Voltage | 162-290VAC |
| Battery | 12VDC |

Arc UPS | UY02 is one of the famous and work-efficient UPS in our online store. The battery capacity of this UPS is 650VA - 390W.

This optimum level of battery capacity makes this UPS more relevant for all types of computers. We have included an LCD to show the voltage output for the users.

You don't need to worry about the safety of using this UPS. It has multiple auto-generated protection systems like overcharge, overload, heating, etc.

We know that battery efficiency is very important for devices like UPS. This power supply device has a 12VDC battery.

The recharge time of this battery is 4-6 Hours to reach the full charge limit. It also has an advanced battery management system that is helpful to optimize battery consumption.

An effective alert system is always efficient for properly managing a UPS. Suppose, you put the UPS in charging mode. But after full charge, you didn't remember to unplug it from the charge.

It can dangerously damage the lifespan of the UPS. So UY02 has a different alert system for multiple reasons like low battery, charging, overload, and battery change.

Arc UPS | UX01

| | |
| --- | --- |
| Capacity | 800VA/480W |
| Input Voltage | 140-300VAC |
| Battery | 12VDC |

Arc UPS | UX01 is another feature full UPS available in our store. If you are looking for a decent-quality UPS for your gaming PC, it's the better option for you.

The charging capacity of this UPS is 800VA/480W. This nice voltage range of this UPS is helpful to give you sufficient battery backup during sudden load shedding.

One of the fascinating factors of this UPS is its battery. We have used 12VDC in it. This is the most commonly used battery in the UPS.

It just takes 5 hours to get fully charged. You know that safety protection is always significant for UPS. So we include an auto alert function for charging and overload.

With internal functionality, the hardware interface is always important. Its hardware interface is crafted with different functionality. It has two USB charging ports for flexible charging. Also, it has two Ethernet ports.

Arc UPS | UZ03

| | |
| --- | --- |
| Capacity | 1200VA |
| Input Voltage | 160~270 VAC |
| Battery | 12VDC |

Specifically, when you are searching for a UPS for your gaming PC, that must be the powerful one. Because gaming PCs generally contain high configuration.

So we have introduced our latest model of Arc UPS | UZ03 for gaming desktops. It's a high-config and powerful UPS among all other models.

Do you know what the capacity of this UPS is?

The electricity capacity of this UPS is 1200 VA. The more electricity capacity will give you the opportunity to use more devices on the UPS.

Not just the capacity, input, and output voltage are also important for any type of UPS. The input voltage of this UPS is 160~270 VAC and the output voltage is 220/230/240Vac +/- 10%.

If your UPS doesn't have a voltage regulation system, it might reduce its longevity. UZ03 has AVR( Automatic voltage regulation) function. It can easily control high and low voltage.

MaxGreen MG-SILVER-650VA 650VA Offline UPS

| | |
| --- | --- |
| Capacity | 650VA |
| Input Voltage | 220/230 V |
| Battery | 1 x 7 Ah |

MaxGreen is another famous UPS brand in the technology market. Most people use max green for basic electricity support purposes.

MaxGreen MG-SILVER UPS is one of the commonly used UPS of this brand. When we are talking about UPS, capacity comes first. The capacity of this UPS is within the normal limit which is 650VA.

The input voltage of MG-Silver is 220/230 V. With the combination of capacity and voltage this UPS can provide 15-20 minutes of backup.

Also, it has a 1x 7 Ah Maintenance free lead-acid battery. It can provide decent support during load-shedding for your gaming pc during load shedding.

If you have a very low budget then you can choose this UPS for your desktop.

Digital X 650VA

| | |
| --- | --- |
| Capacity | 650VA |
| Input Voltage | 162-290V |
| Battery | 1 pc with 12V & 7Ah |

Now I am going to discuss the last UPS on this list. It's a Digital X 650VA UPS. It's another model of UPS that is used by the majority of basic users.

Also gaming enthusiasts like this UPS for their temporary use. Digital X 650VA is an offline UPS that contains 650V capacity. Generally, this capacity is the minimum range for a regular UPS.

It has an optimum level of input voltage - 162-290V. Also, its output voltage is 220-230 VAC +/-10%.

But this UPS doesn't have any LED display to monitor the voltage and battery percentage. It will become difficult to operate the UPS properly.

In terms of battery capacity, this UPS has 1 pc with 12V & 7Ah battery. This battery can provide 10-15 Min backup for a single device.
Things to Consider Before Buying UPS
Focus on the UPS Runtime

What is the main purpose of using UPS?

Well, the main purpose of UPS is to provide an uninterrupted electricity supply for your gaming computer. As you already know, a power cut can damage the motherboard of your computer.

If the UPS doesn't have enough battery capacity to run the computer, will it be able to save your computer?

So first you must check the run time of the UPS.  Generally, a UPS should contain at least 1 hr battery run time ability.

By the way, you can choose a UPS which will support your computer for 20-30 minutes. You have to remember, your UPS will be used for the smooth transition of electricity during load shedding.

Because sudden power off can be harmful to the health of your gaming computer.

Calculate the Capacity

With the runtime of your UPS, its capacity is also an important factor.

The capacity of your UPS is determined based on how many devices it can easily use with its battery life.

Each device consumes a different amount of electricity. Your desktop CPU consumes more electricity than the monitor.

In the tech market, you can find different models of UPS which come with different capacities. Most common types of UPS have 650VA, 800VA, and 1200VA capacity limits.

Suppose, you have too many devices like more than one computer, routers, monitors, etc. You should choose that UPS which contains an 800VA+ capacity limit.

Understand Your Need

Before buying any UPS you must determine the reason for buying it.

UPS are used for home and office for extra electric supply.

You know that, if you need a UPS for your office you have to choose a high-config UPS. Because there are lots of computers and other devices. So you need additional electricity support.

But if you think of buying a UPS for your home, you should choose an optimum-level UPS. You don't have too many devices like in the office.  So if you properly analyze your use purposes, you can choose an appropriate UPS.

Check Reliability and Functionality

For any kind of tech product, reliability is one of the biggest issues.

If you choose an unreliable product from an unauthorized manufacturer, you might face difficulties after purchasing the product.

So your seller must be trustworthy and authorized. To check the reliability, you must go through the customer reviews. You need to clarify how they think after purchasing UPS from that store.

From the customer review, you can also check the product quality and performance. After-sales service is also important. The store should also provide at least 1 year of service warranty for the product.

On the other hand, UPS functionality is essential. Most modern UPS has LED panels for monitoring the battery, voltage, etc. The automatic alert function is very useful. When your UPS reaches the highest load it will automatically confirm it.
Final Words
A sudden power cut or load shedding can badly impact the core components of your gaming computer. One single accident can ruin your whole gaming computer-building effort.
But how can you solve this problem?
The most effective and safe way is to choose a high-quality UPS. In our Walton Digitech store, we have different models of UPS at very affordable prices. We also provide multiple types of computer tech accessories such as USB hubs, pen drives, card readers, printers, etc.
Frequently Asked Questions
Ques: What is the optimum capacity of a UPS for gaming?

Ans: Gaming is a heavy-duty task for the processor of a computer. So it generally takes a good amount of power to process the task. For a gaming PC, you should use 1200VA UPS for running the pc.

Ques: What things should you check before buying a UPS?
Check the power capacity of the UPS.

Clarify the reliability of the product and store.

Determine your purpose.

Check the battery backup of the UPS.
Ques: Which UPS is the best for gaming PC?
Ans: You already know that gaming PCs need a higher configuration UPS for performing heavy graphics tasks. For that reason, you should choose Walton Arc UPS | UZ03. This powerful and work-efficient up is available in the Walton Digitech store.
#technologies
#tech
#digital
#digitalmarketing
#blog

2 Shares
Subscribe to our blog
Sign up to receive Content blog posts